"Haikyuu!!," with its impeccably animated and long-drawn-out volleyball matches, shonen-style storylines, and deep characterizations of a whole cadre of interesting characters, is a well-loved sports anime that's been around since 2014. The series starts out when small but spunky middle schooler Shōyō Hinata becomes enamored with volleyball after watching Karasuno High play on TV, only to find no one else at his school is interested in the sport. By the end of his middle school career, he has persuaded some friends to join him on a team so they can compete in a tournament. However, despite redheaded Hinata's amazing vertical jump, they suffer a crushing defeat at the hands of Tobio Kageyama, who's been dubbed "The King of the Court," and his team.
Hinata studies and gets accepted at Karasuno High. He joins the volleyball team, only to discover that his brand-new rival, Kageyama, is now his teammate. As it turns out, the school is rebuilding its volleyball team and these two new players together — despite their instant antagonism for one another — have a killer quick strike combo that might bring the spotlight back to their volleyball team. Over the course of the show's four seasons, school rivalries develop, more players are introduced, training camps are attended, and the teams enter competitions that test their mettle and their interpersonal relationships — and bring on the type of emotion that only thrilling sports moments can inspire.
With a long-awaited fourth season now in the books, fans are now hoping for news about the series' fifth season. Here's what we know so far.
Updated August 11, 2021: This article has been updated with news out of the Tokyo Olympics.
When is the release date of Haikyuu Season 5?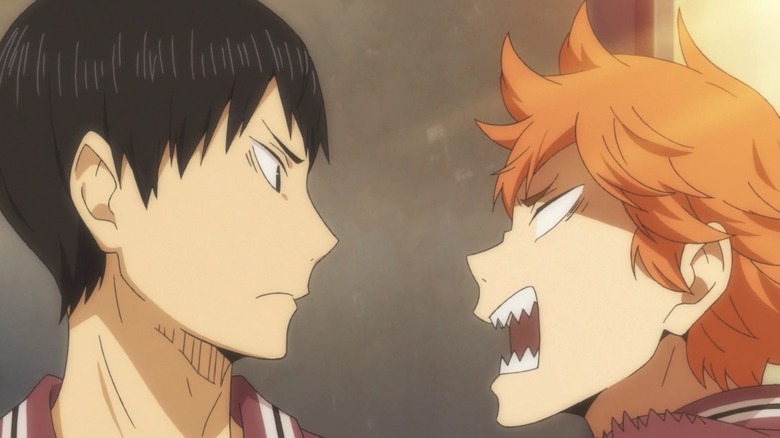 The first three seasons of "Haikyuu!!" came out promptly in 2014, 2015, and 2016. Then, there was a huge gap between the third and fourth seasons, and the fourth season itself was not announced until late 2018, per Crunchyroll. It aired split in two segments (or cours) from January to April 2020, then October to December 2020. It's now been several months since the last episode of Season 4 aired on Crunchyroll, and there's no word yet on whether a Season 5 is coming from Production I.G.
However, in December, following the last episode's transmission via Crunchyroll, the English-language Haikyu!! Twitter account put out a message thanking the "anime team" for their hard work, and adding, "Looking forward to the continuation!" This seems to imply it's expecting a fifth season to arrive at some point. It's difficult to know when this might happen, however, and the fact that the show had such a long hiatus between the third and fourth seasons makes fans worried that there will be another delay before official news comes about Season 5. Monsters & Critics noted that experts believed the previous delay was due to in-house factors, including waiting for key staff members to complete other projects.
Extrapolating from the December 2018 renewal and the January 2020 airdate of Season 4, it can be expected that "Haikyuu!" has a one-year production cycle, which means that whenever Season 5 is actually announced, the show will probably return (possibly in a split-cour format, again), 12-13 months after that. That's probably not the best news for fans, but hey — at least the anime theme song was played at the Tokyo Olympics during the volleyball event. The property remains relevant.
Who is in the cast of Haikyuu?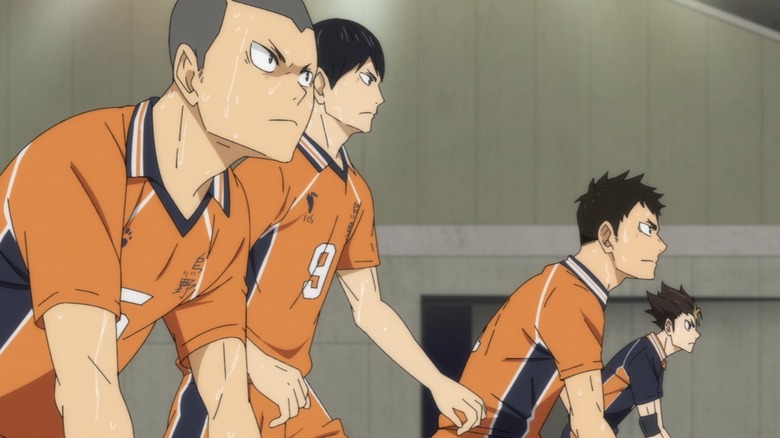 The current cast of "Haikyuu!!" includes Ayumu Murase as Hinata, Kaito Ishikawa as Kageyama, Yu Hayashi as Ryunosuke Tanaka, Satoshi Hino as team captain Daichi Sawamura, Miyu Irino as Koshi Sugawara, Koki Uchiyama as Kei Tsukishima, Sôma Saitô as Tadashi Yamaguchi, Nobuhiko Okamoto as Yu Nishinoya, Yoshimasa Hosoya as Asahi Azumane, and Hiroshi Kamiya as adviser Ittetsu Takeda. Most are members of the volleyball team, though some start off as first-years along with Hinata and Kageyama.
The fourth season of the series, called "Haikyuu!! To the Top" has not yet been dubbed into English. The English cast for the first three seasons includes Bryson Bauga as Hinata, Scott Gibbs as Kageyama, Greg Cote as Tanaka, Justin Duran as Sawamura, Adam Gibbs as Sugawara, Leraldo Anzaldua as Tsukishima, Cameron Bautsch as Yamaguchi, Greg Ayres as Nishinoya, Orlanders Jones as Azumane, and Gareth West as Takeda.
There's no reason to expect any changes for the fifth season, in terms of casting.
What will the plot be for Haikyuu Season 5?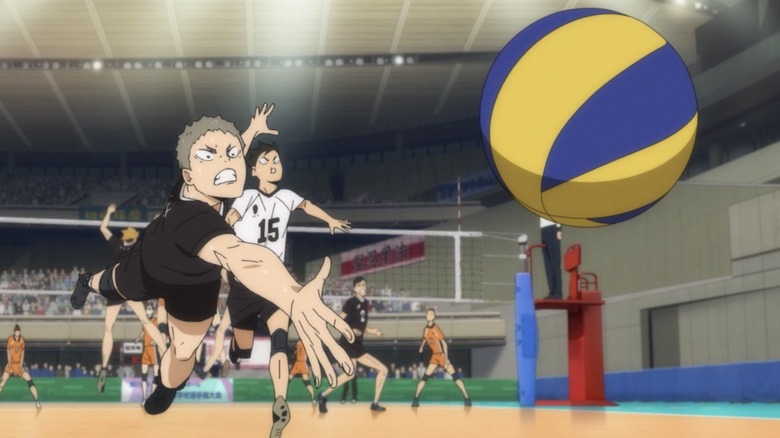 "Haikyuu!!" is based on the manga series created by Haruichi Furudate, which ended in 2020 with Chapter 402 and Volume 45 (the English translation is a few volumes behind). The fourth season ended in triumphant, emotional style with Chapter 292, so there's plenty of plot left to cover.
In Season 5, as outlined by the manga, the members of the team will participate in the Nekoma vs. Karasuno match at the garbage dump, and there are plenty more matches coming up, including some high stakes competitions. Basically, there are lots of beautifully-drawn volleyball on the way. And Hinata will even get to meet the player who started it all for him, "the Little Giant."
Should the anime series follow the manga all the way to the end in Season 6 and maybe even a Season 7, fans may be in for a big surprise — the manga jumps in time and location, and even focuses on a related, but separate sport.